PbFut's Garage Sale
Last update 9-23-12
This page may take a minute or two to open. Lots of stuff and pictures Still a few Item left but it's getting slim.
First....Thank you for such a great response and show of support. All the emails and kind words of encouragement really show how cool the community is.
The car has been through a lot since I started this garage sale years ago. There is still al lot of stuff kicking around I did not get to listing. Someday maybe I pull the camera out and list some more stuff. Oh and if you are curious about the LS build, look here.
The below parts are off of a 99 MCoupe. Build date 8-98 Vin#60268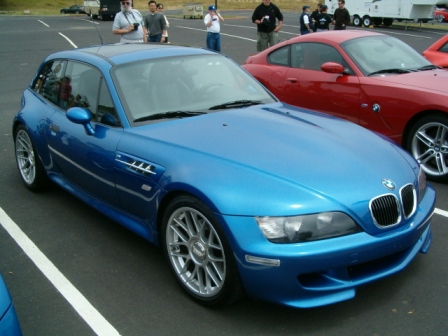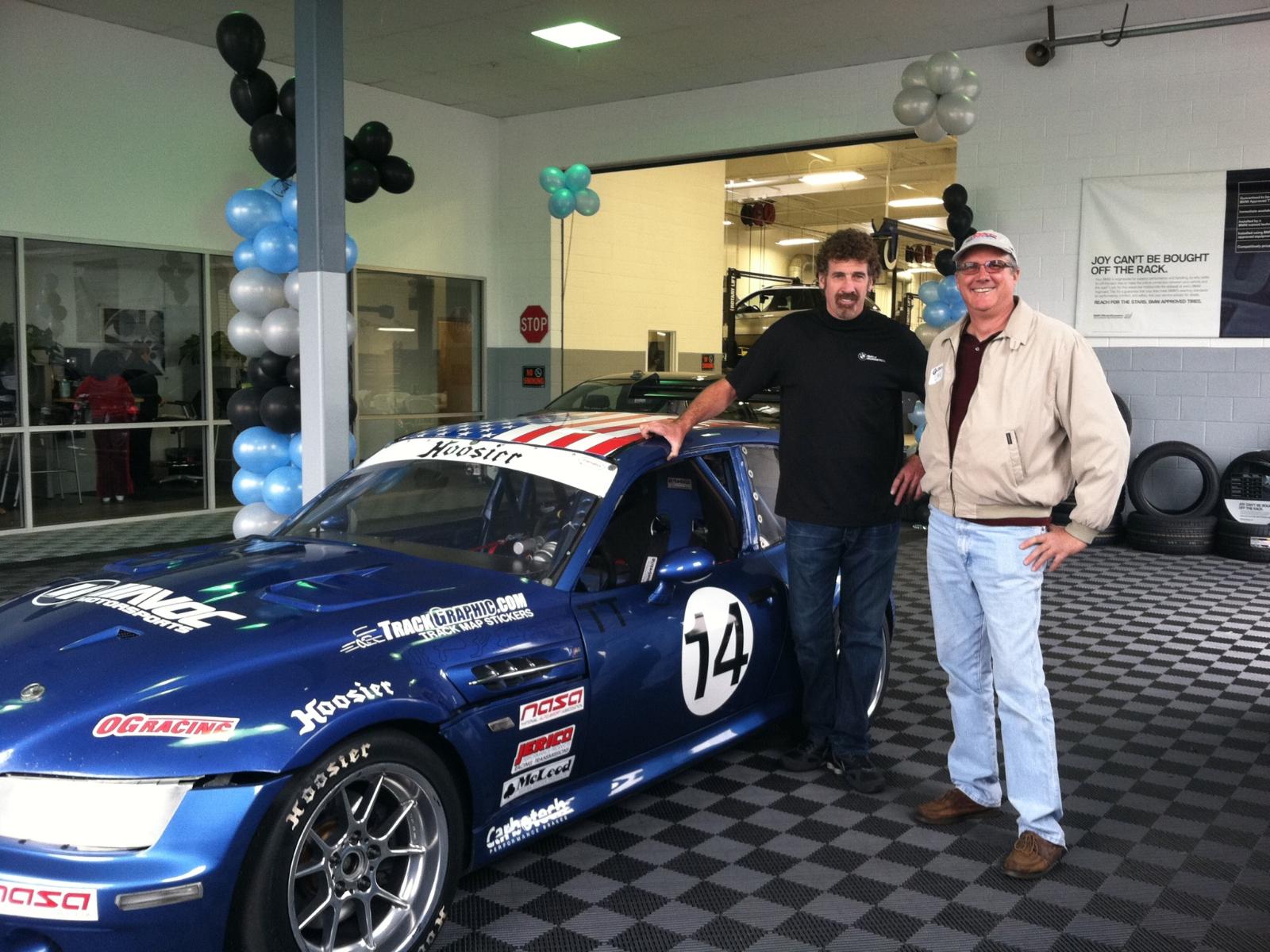 Before the fire Here it is with Boris Said at his new BMW dealership in Murrieta Calif.
The car had 36.7k miles on it when most parts of the (except engine) were removed. All parts listed are in very good to excellent condition unless otherwise noted. I am not going to take time making this page fancy. The page is going to take a long time to load. About 5 megs of images. Prices listed are pickup, + is shipping price to continental US and to cover PayPal fees. Yes the shipping is probably more than actual cost. But it's a pain in the ass to take this stuff to UPS and PayPal get's their cut to.
If you are serious about a part, email me. I have been getting lots of looky-loos asking questions that are more suited for the message boards so please try and keep them to a minimum. If you want a high res version, just ask. PbFut@Pbfut.com
Method of payment is Paypal. I use the PayPal mail service so when you pay, I can print postage paid labels and get your item out next day. My PayPal account name is PbFut@Pbfut.com Be sure to let me know what item you are paying for.
7-30-08
After suffering a catastrophic engine failure of a piston exiting the block, I have decided to do a LS swap. So, all my go fast engine goodies are listed below. Engine pats went fast, most are sold. Again all parts are in extremely good condition. I will not dump a part that I wouldn't buy myself to use. Some of the parts are older and I noted so. Older parts are still in good shape and would make great backup parts for a budget racer. There are still some left over street parts from the original build further down the page.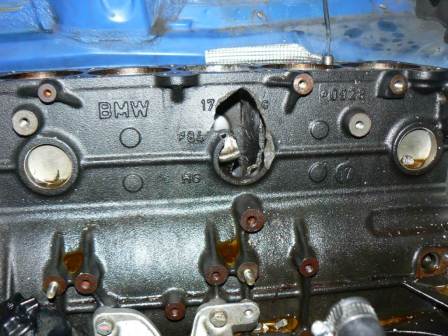 ---
Items Still Left
ABS Pump $125 +25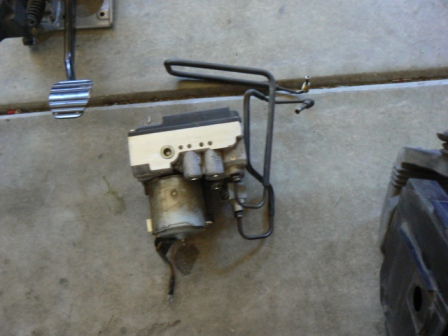 CONTROL UNIT CRUISE CONTROL
40+15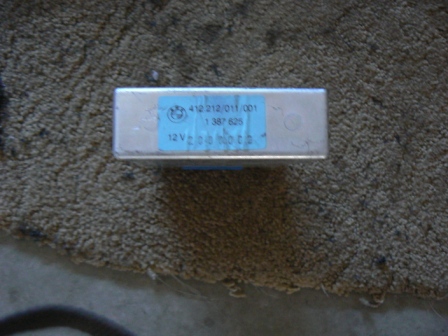 Secondary Throttle Actuator
for AST 25 +15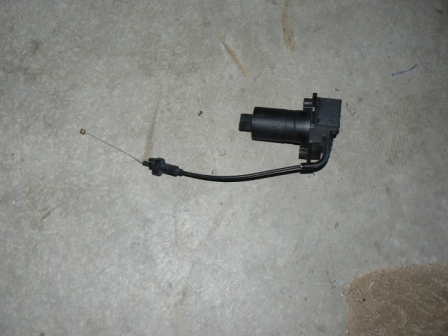 DME Housing with fan $25+15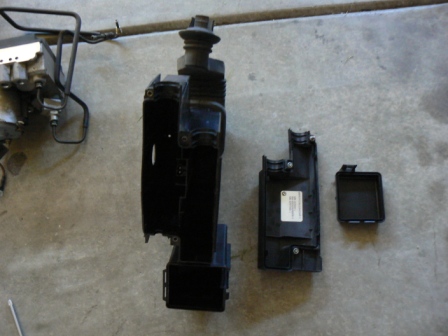 Oil Pan, Oil Pump and Pickup. 70 + 30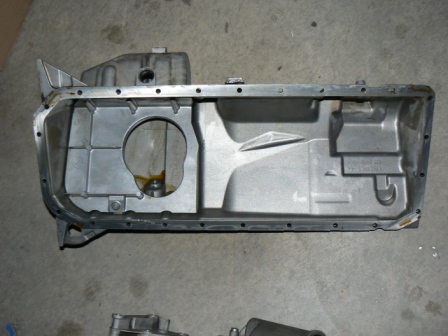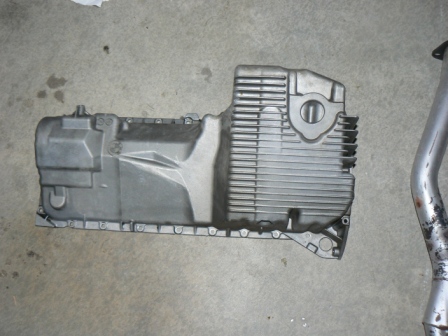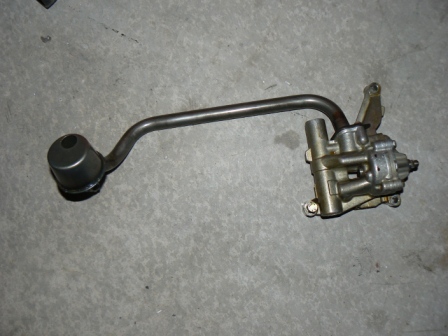 Secondary Timing Chain Tensioner 15 + 15 (drill bit is to hold sprung parts in place)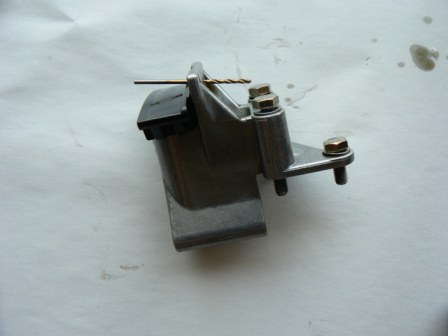 Traction Control Valve 25 + 15
I think I have the motor to if you need it.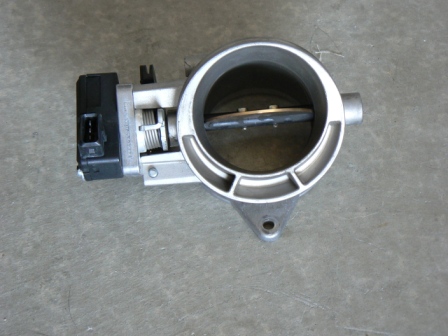 Vanos Switch 36K miles plus 2 track seasons. Good backup part. 5+9

Switches
Window 20 each + 10 Sold
Hood Alarm 20 + 10 very common failure part.
Mirror switch 20 +10 Sold
AC/Recirculation Sold
Seat Heater $20+10 Sold
Cruise Control $50+10
Turn signal $50+10
Wiper $50+10
Rear Defroster 20+10 Sold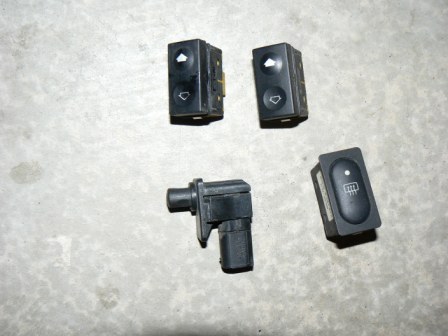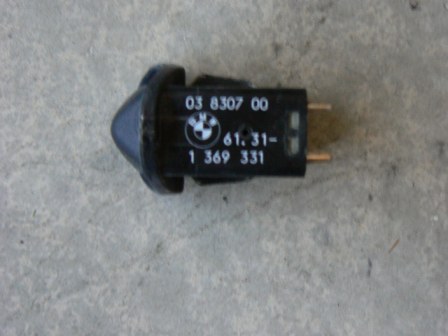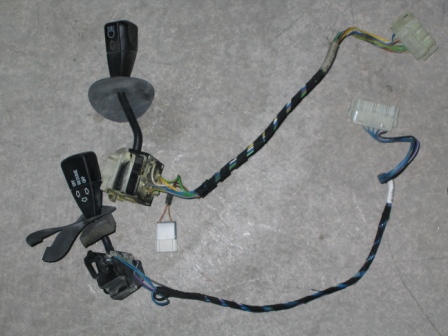 Heater Valve
10+15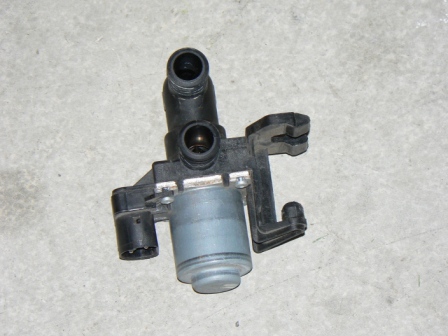 S52 Intake 60 + 20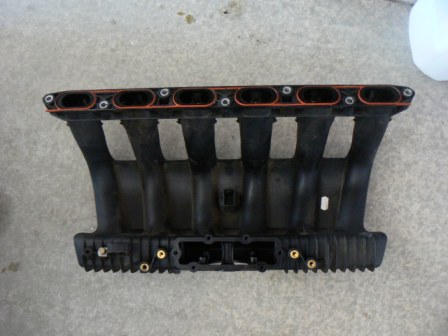 S52 Exhaust Manifold 30 + 25 One collector stud missing but drilled for bolt.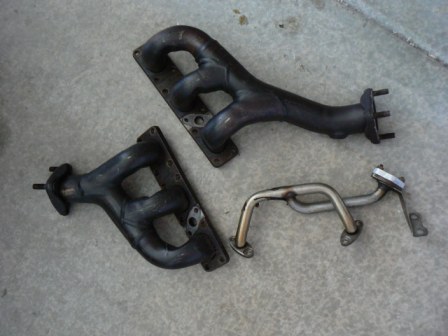 Idle Control Valve 36K miles plus 2 track seasons. Good backup part. 15 + 15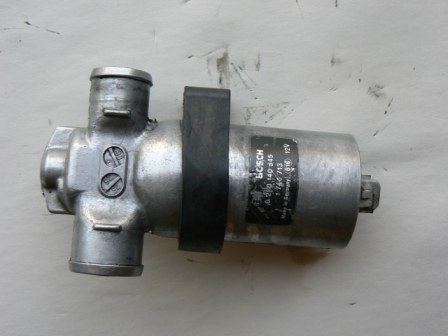 Rear Brake Sensor $12 shipped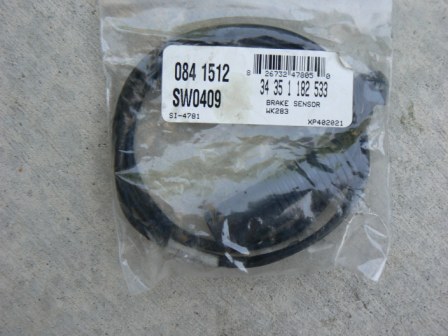 Front Wiper Motor and Assembly 40+25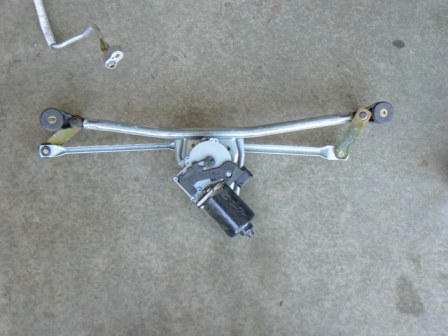 Airbag Control $30+10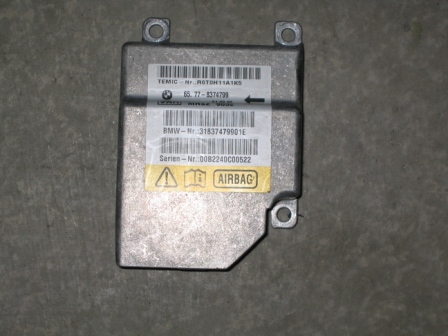 Air Bags single stage
Front Passenger $100 + 15
Left $50 + 15
Right $50 + 15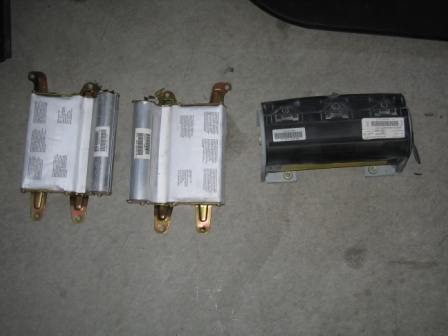 Window Hardware
Passenger Window Glass No Pic $25+25
Left Actuator w/motor 40 + 20
Right Actuator w/o motor 20 + 15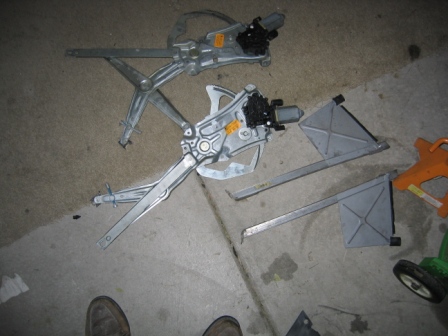 Left wind wing frame only. $25 + 20 (Normally comes from Factory inc. glass.)
If your rail is damaged and you think you can remove the glass, this will save you a bundle.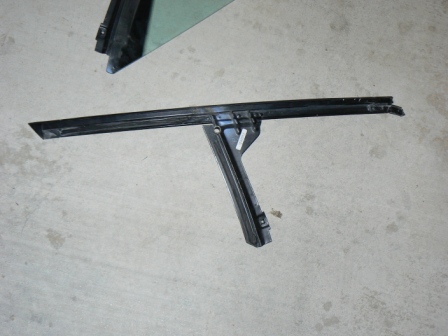 Speaker Covers in headliner
$10 +7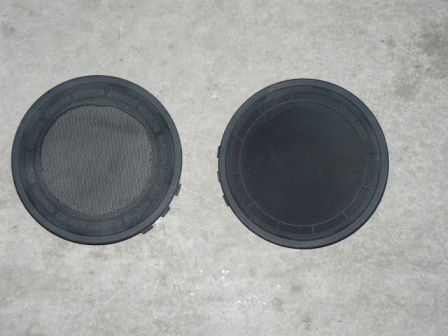 Driver Knee Cover
50+20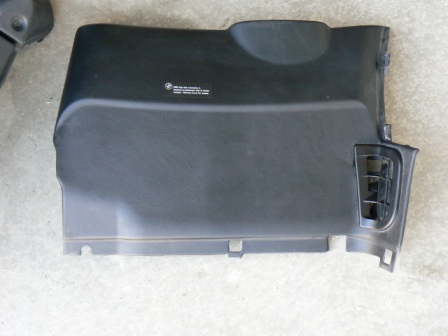 Rear compartment tie-downs
30 + 10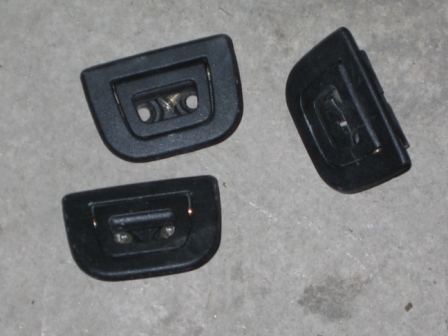 All Items below are Sold

Bimmerworld Sunbelt cam kit OBDII. 3200 takes all of it. It is the Sportsman's kit and includes the Sunbelt Cams, 24lb injectors, Porsche 3.5"MAF, properly modified M50 manifold and fuel rail, Flashed ECU to run the package. I also made a ASC delete using a 4 to 3 Sweep rather than a small 3" stuff. I will also include the Bimmerworld race springs ($1150), seats and retainers that help with valve float and a Modified Vanos to limit intake cam advance to 8.5mm. They add an extra margin of safety for the motor. The kit is about 3K plus 1K for springs and a few hundred for the vanos. I dyno'd the kit in May right after run in at 272hp at the wheels on a Dynojet. That's about 60hp gain. There was no contamination in lifter valley and I magnafluxed the cams just to be sure. Journals are good shape with very minor run in marking and lobes look perfect. The ECU also has the Air Pump, secondary o2 and EWS delete so it's plug and play. This is a great kit for the track and is very streetable give S54 performance w/o the price tag.. I was very happy with the results.
Cams, Injectors, ECU, MAF Sold and Delivered Albert Villela (SlickAV)
Springs Sold to Mike Mann
Vanos 200 +15 six hours on rebuild. Shimmed to limit advance to 8.5mm Sold and Shipped To Scott L
M50 Intake 110 + 20 includes drilled stud bores to fit S52 head, Modified S52 Injector Rail and mounts, Adaptor Plate for PCV and ICV Nipple for PCV Vacuum and emissions line. You will need to Route the vacuum lines to the PCV and ICV. 110.00 + 20 Sold and Shipped to Nasrin
ASC Delete Sweep. 30 + 10 This is not your typical sweep. It goes from 4" to 3" and has the connection for the ICV. I have added a 3.5 to 4 reducer for the large MAF. Sweep mounts directly to the throttle body eliminating the ASC plate. Strange as it sounds, the butt dyno registered a difference up top. Surprised me. Sold


INTAKE
Gross Lift 0.430 inch
Dur @ .004 (Hyd Lash) 276 deg.
EXHAUST
Gross Lift .420 inch
Dur @ .004 (Hyd Lash) 272 deg.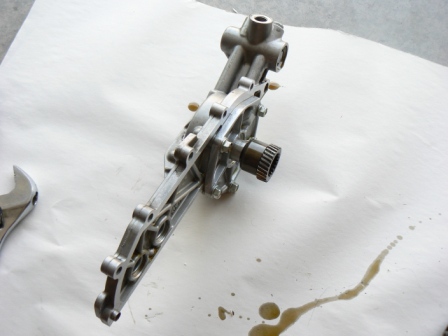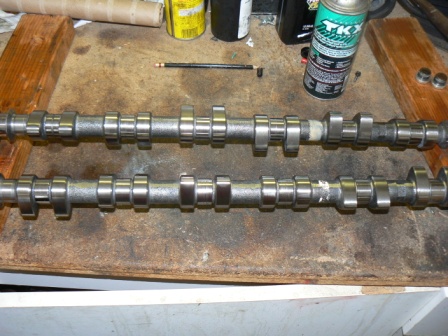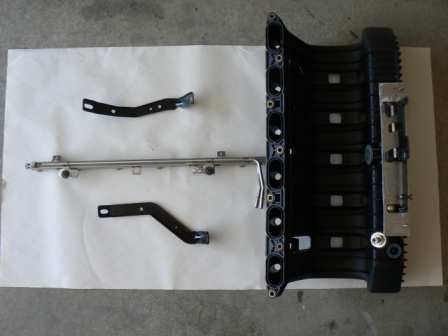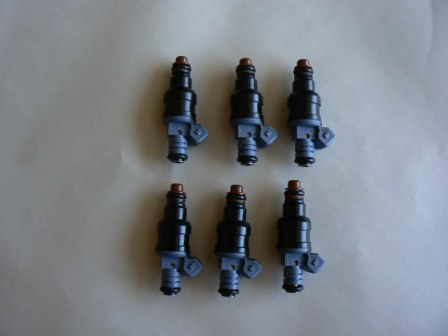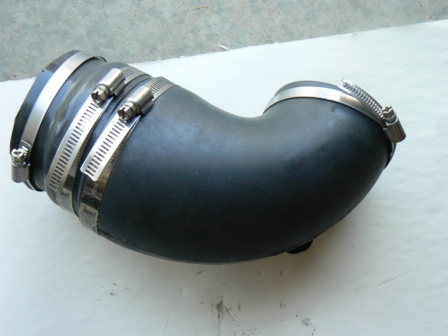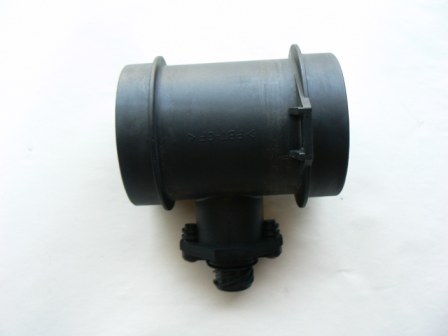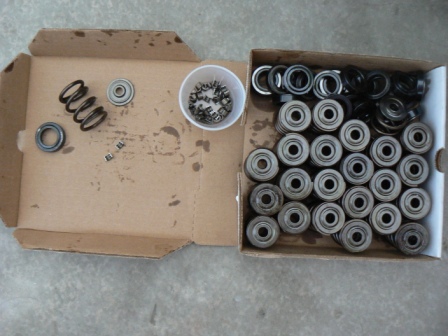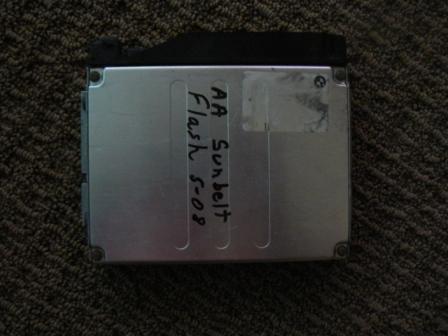 End of Kit More individual stuff below
Secondary Timing Gears, Chain and Polished Plates 50 + 15 Sold and Shipped to Scott L.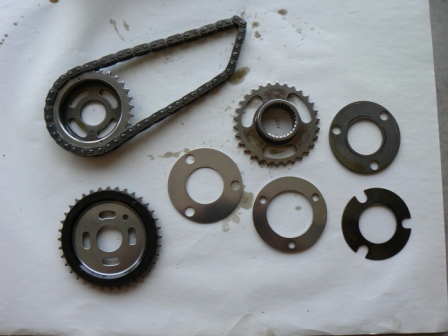 Brake Booster $70+30 Sold
Mater and Tank $80+20 Sold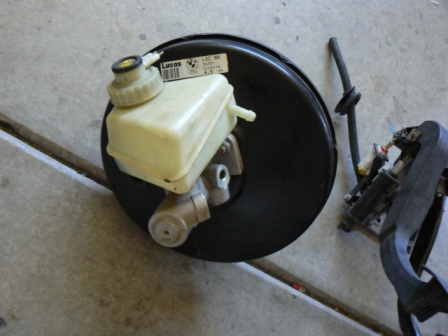 Primary Timing Chain Tensioner 15 + 12 Sold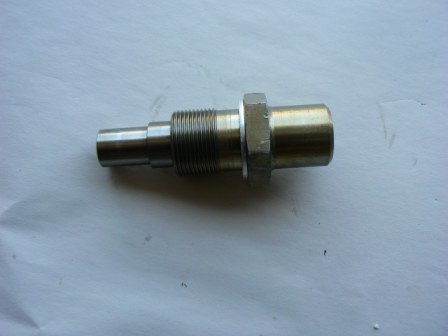 Rear Wiper Assembly (arm inc) 40+20 SOLD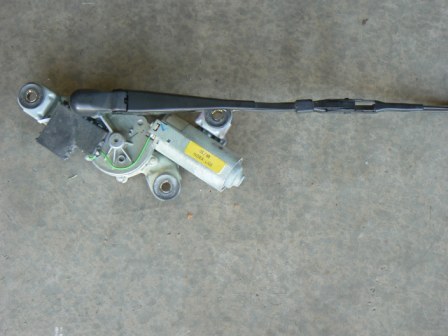 Upper Idler Wheel only 2 track seasons. Good backup part. 10 + 10 Sold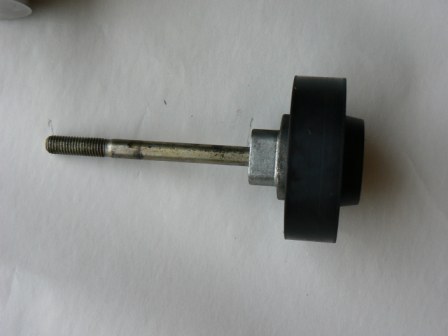 Lower Idler Wheel 36K miles plus 2 track seasons. Good backup part. 15 + 10 Sold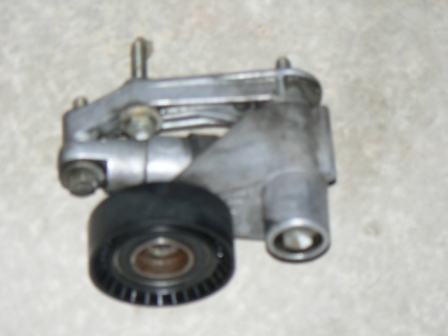 The Banjo bolts are worth the price. Sold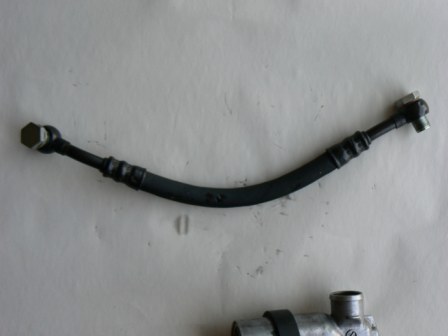 Brake and Clutch Pedal and Clutch Master Cylinder $65 + 20 SOLD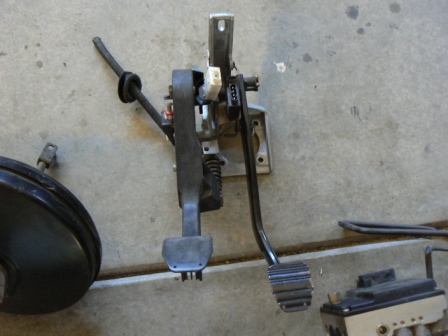 Complete set of OEM Sensors 40 + 15 Sold
Almost new Crank, Cam, and Manifold Air Temp sensors. Water,
oil temp, knock sensors and Air Pimp vacume switch are original to the car.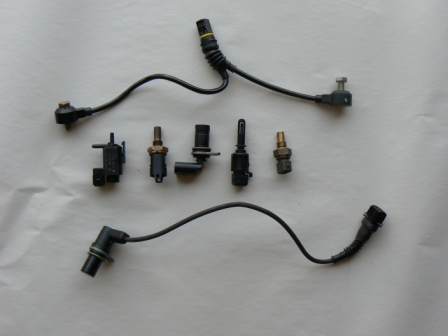 Dash Cluster 100 + 20 SOLD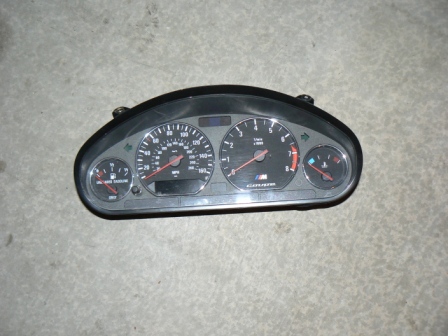 Alternator 36K miles plus 2 track seasons. 35 +15 SOLD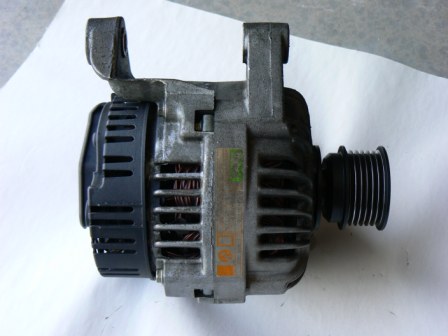 Valve Springs and Retainers OEM S52 20 + 15 SOLD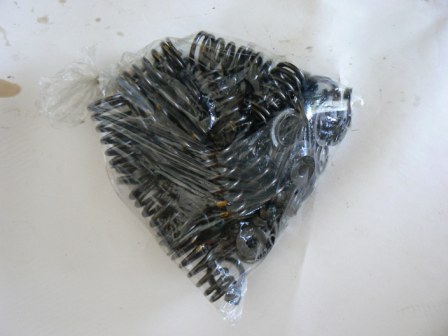 Knockoff Headers. 150 + 30 Sold and Shipped
These were used about 6 hours. Pat Avakian gave them to me. He does not want them back so I am selling for him and will forward the net proceeds. Fit was better than expected. I do not have AC so the install went very quick. Initial trial fit was a little concerning. You will need to loosen motor mounts and lift the engine to be able to get past the header studs. After that, pretty easy. You will need to weld a new flange on the OEM exhaust.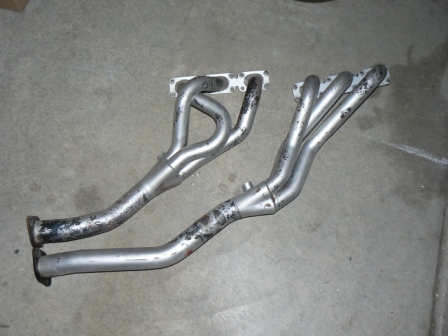 Engine Wiring Harness 30 +15 Sold and Shipped
All connectors except the MAF are in perfect shape. I added slip connectors for the Porsche MAF.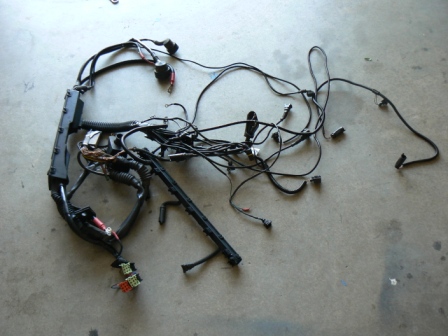 CRUISE CONTROL ACTUATOR item 3 SOLD
http://www.realoem.com/bmw/showparts.do?model=CM93&mospid=48089&btnr=66_0052&hg=66&fg=20&hl=6
25 + 15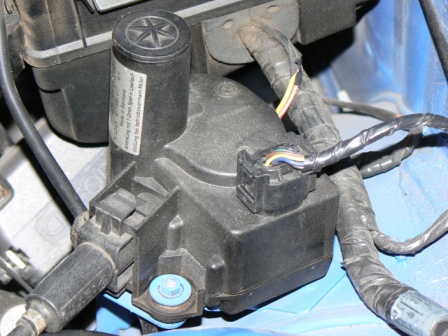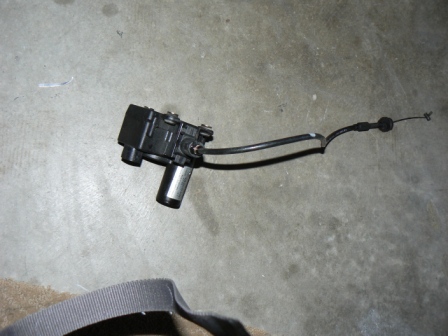 5 Speed Tranny No problems. Shifts smooth and fast. $300 + ?? Local pickup or we can talk about delivery/shipping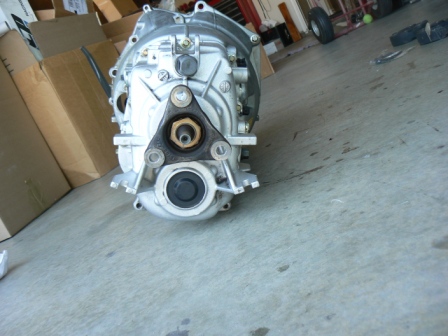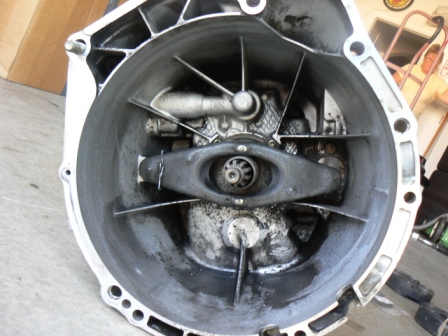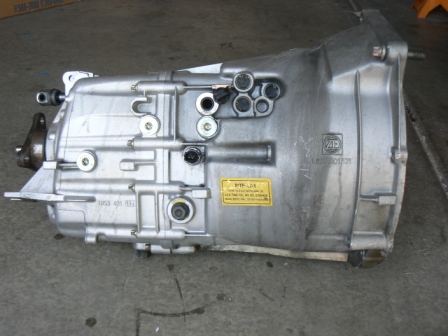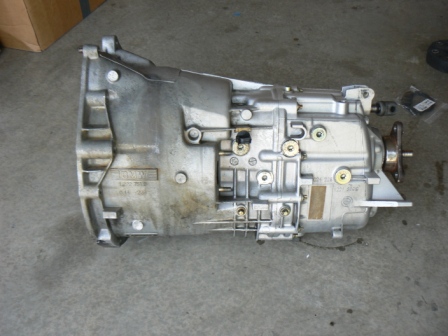 Oil Filter Housing 40 + 15 Cap incl. not shown Sold and Shipped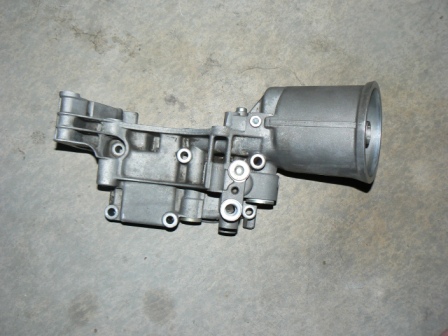 Engine Mounts(2) Vorshlag Delrin type. 2 Seasons old. 100+15 Sold and Shipped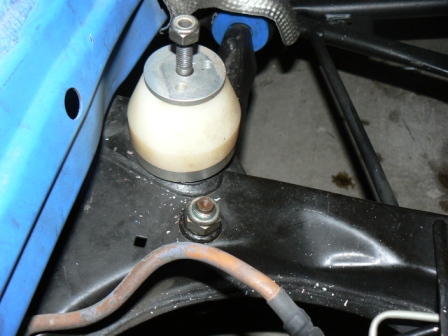 Tranny Mounts UUC Urethane and cups 40 + 10 Sold and Shipped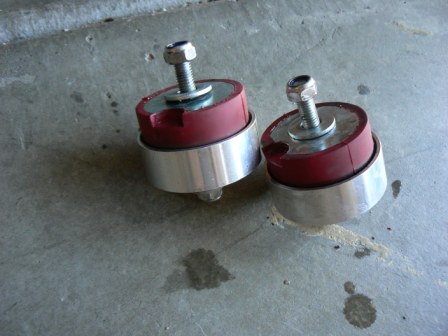 Guibo (1 new) 40 +15 or (1 used) 15+15 Used is one season old and looks in perfect shape. Sold and Shipped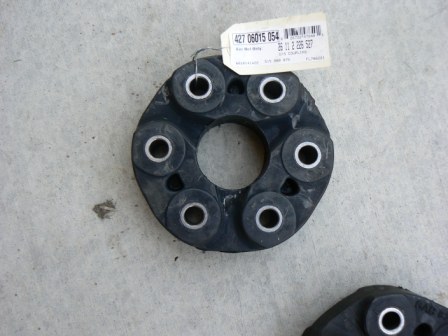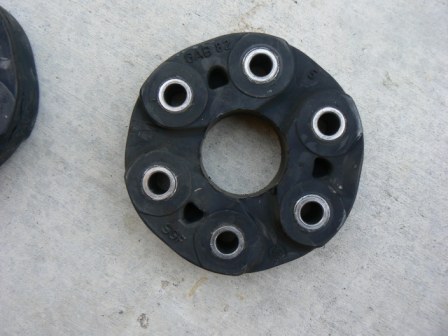 Steel OEM Water Pump 15+15 Previous owner replaced sometime in the 36K use.
I replaced before track use, no leaking. Sold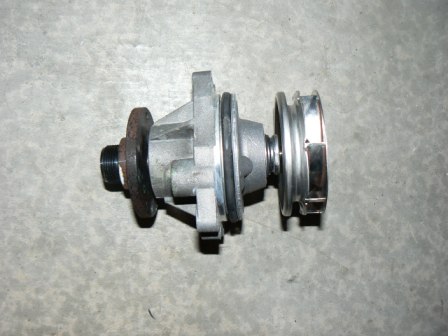 6 Coils S52 OEM 40 + 15 Sold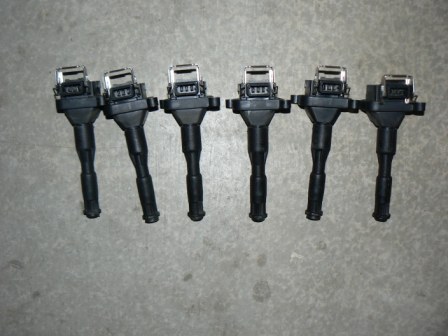 Dinan Throttle Body 150 + 15 Not much to wear out on these. Was on the car when I bought it. SOLD To Dan McGuire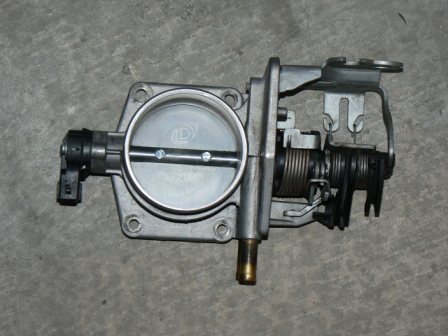 Starter 36K miles plus 2 track seasons. Good backup part. 35 +15 Sold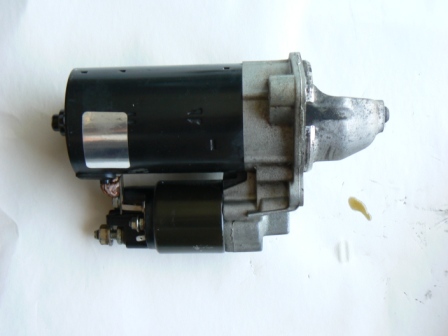 Main Pulley/Balancer 36K miles plus 2 track seasons. Good backup part. 20 + 15 Sold & Shipped to JMW Motorwerks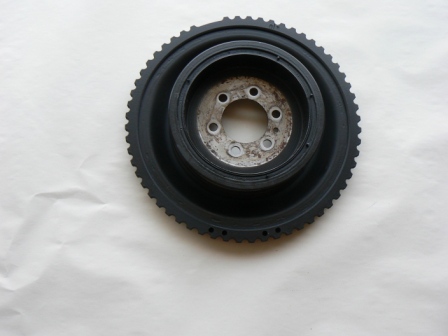 Heater Valve Bypass 15 + 15 Sold
Includes a temp sender. Perfect spot for the sender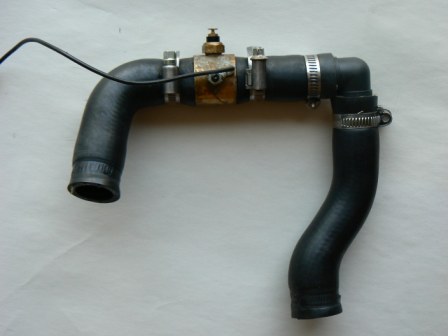 Aluminum TStat Housing 15 + 10 Sold to Yale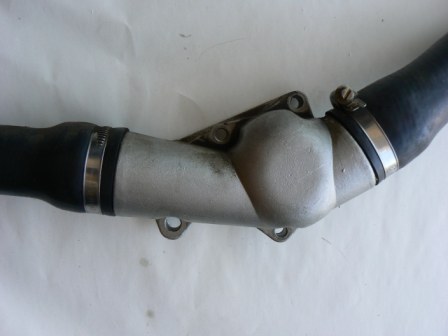 UUC Underdrive Pulleys and Belt WP and PS 100 + 15 Sold and Shipped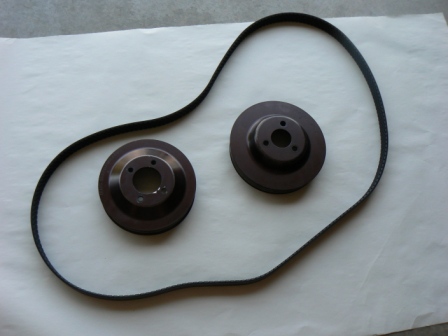 Stewart Water Pump 2 Tack Seasons 100 + 20 Hold For Yale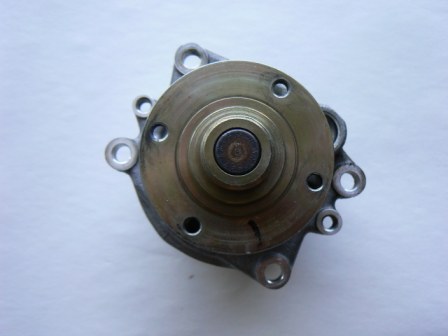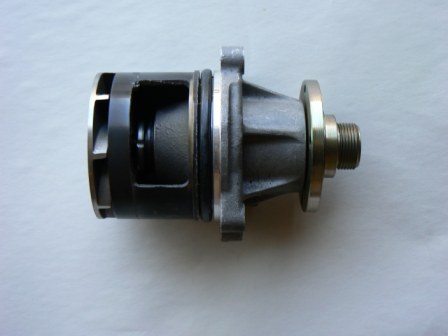 Air Pump Pipe with pump elimination cap (removable) Sold
15+15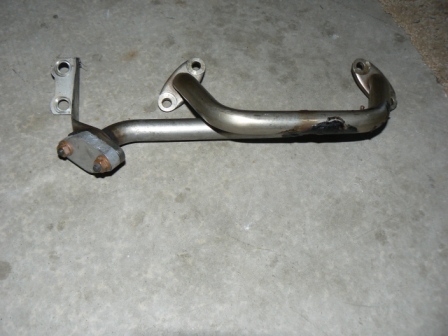 Air Pump Valve Sold
15+15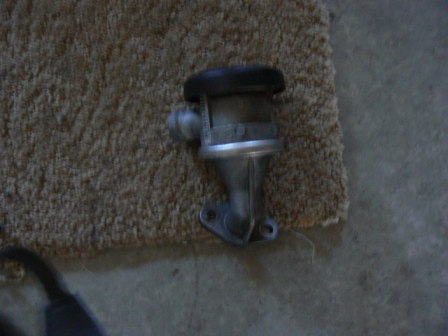 Air Pump 50 + 20 Sold and Shipped
Sticky relays will burn these units out. This one is in great shape.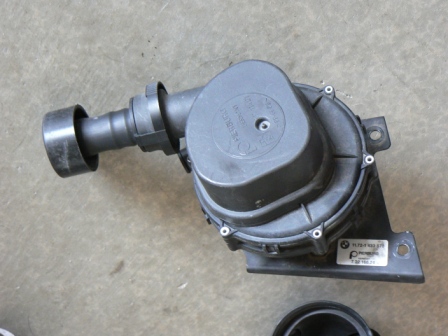 ECU and Euro 3.5" MAF (Not part of the Cam Kit above) 200 + 25 Sold and Shipped to Osborni (jajou318 in backup) sorry Jajou
ECU is not stock. It is flashed for Euro MAF, Cold Air. Speed limiter removed and RPM limit raised to 7200.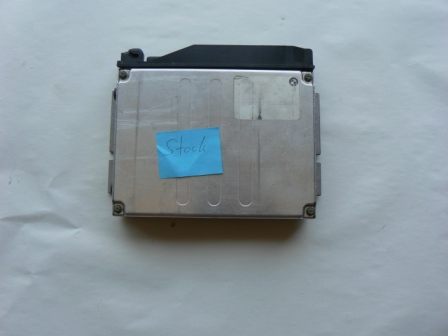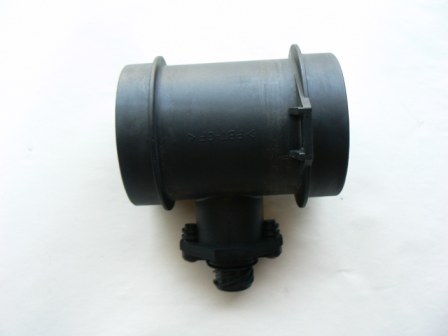 VPD Oil Cooler Filter Housing Cap Adapter 100.00 + 15 Tstat incl for street driven cars. Sold and Shipped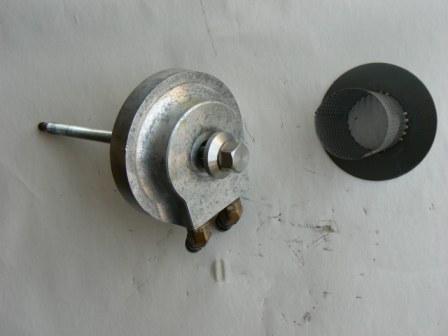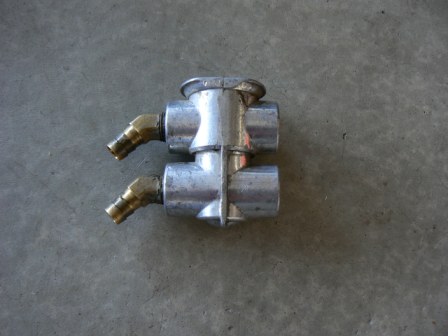 UUC DSR Rod and modified Shifter Arm. 100 + 20 Sold and Shipped to Nasrin
I modified the Arm to eliminate the rubber bushing at the transmission. Takes out most of that side to side, and all the front back slop in the Shift Handle, except what's in the tranny it's self. There is a modified shifter handle in the arm. Easy to remove. It is very short and requires a strong driver. Way shorter than any commercially available shift handle. I'm not sure you can use it with a console in place. The ball does not have the correct pattern on it. It will be in the box. If you use this handle, strongly suggest the Delrin engine mounts and Urethane Tranny mounts. You don't want the tranny moving our you will miss a gate. 95% of the buyers will love the DSR and modified bushing. Just pop out the shifter and replace with your own, or find a commercial short shifter.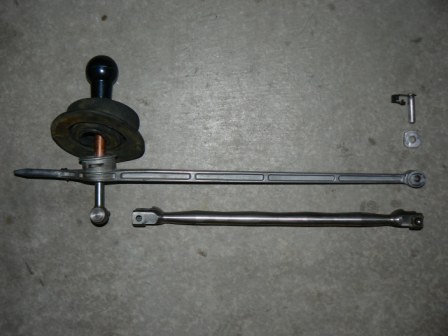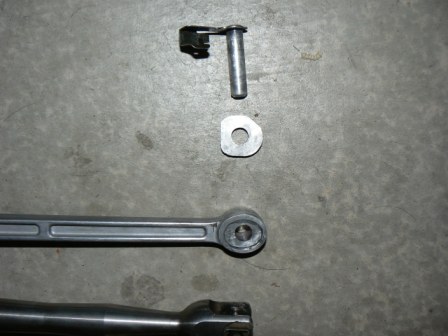 S52 Valve Cover coils not inc. Sold To James S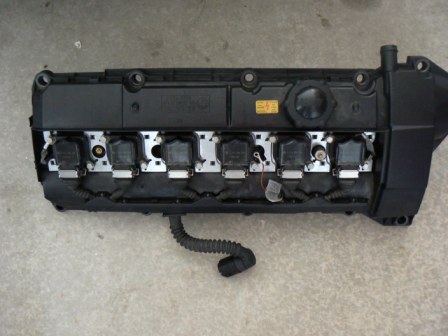 Cam Bearing Ledges intake and exhaust 250 + 25
In very good condition. Lifters not incl. Sold To James S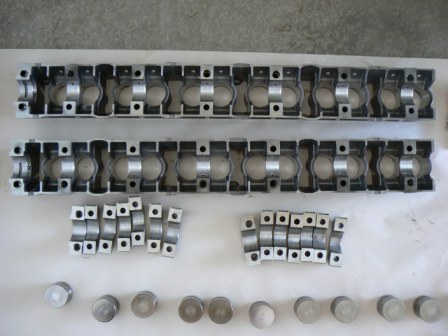 Lifters Good shape All 24 for 100 + 15 Sold To James S.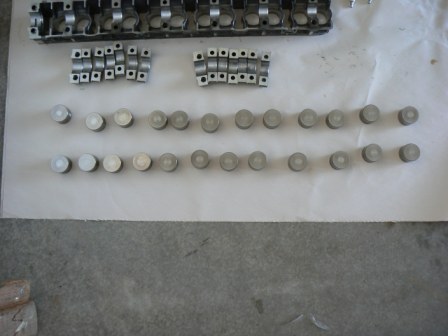 S52 OEM Cams Fair shape. Shop said they were ok to use 50 + 25 Sold To James S.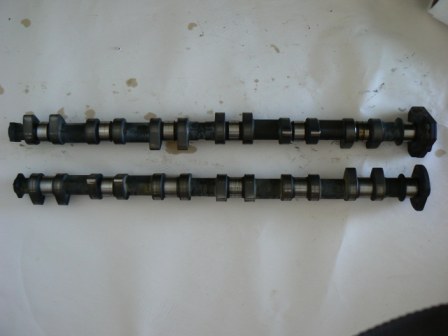 Fuel Injectors 21 LBs 36K miles plus 2 track seasons. Very Good Shape. 100 + 25 Sold To James S.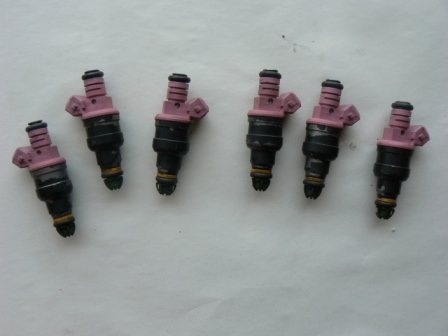 Intake Rubber 10 shipped Sold and shipped to Spider310
If yours is cracking, replace it now! It will fix many problems.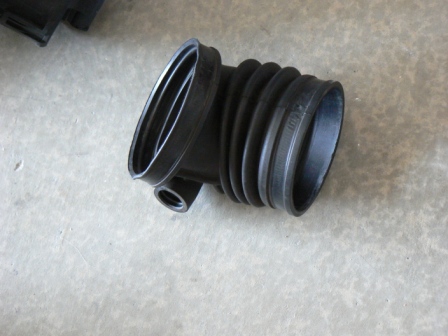 Primary O2 Sensors 40 + 10 Sold and Shipped to 1996BMW328i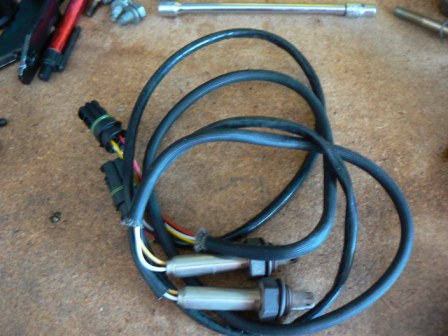 Fan and Fan Clutch 35 +20 Sold to Yale
Looks to be in near new condition. May have been recently replaced.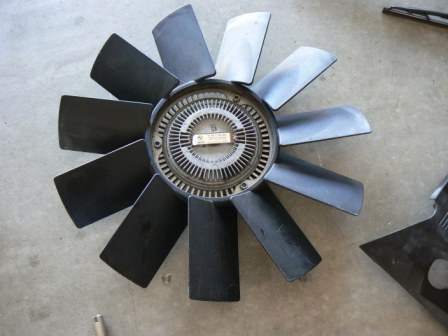 Oil Block (leather Z style) with Temp Sending and Oil Pressure Units 30 + 10
Easy way to add a Oil Pressure sending unit on to a S52 oil filter housing Sold and Shipped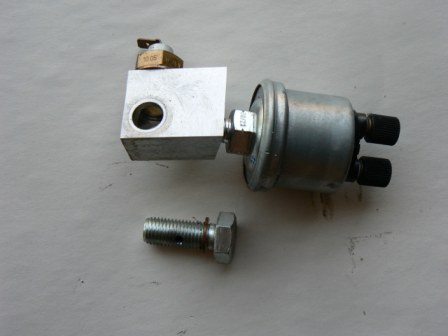 Air Conditioning Parts
Dryer 25+15 still available Sold to Nate
Compressor mount 25+15 still available Sold to Nate
Compressor Sold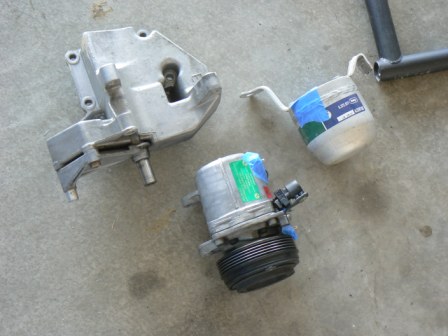 Evaporator and valve 75+15 Sold to Nate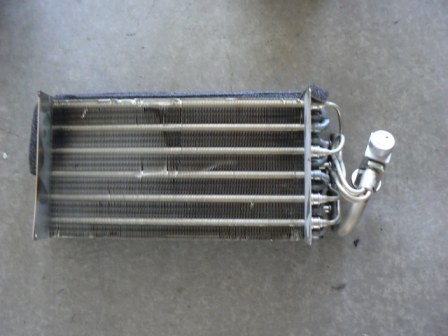 Heater Core 25+15 Sold To James S.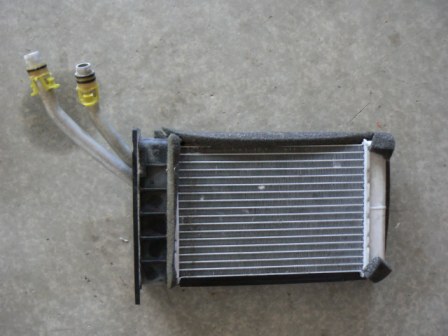 S52 Engine Cover Sold
25+15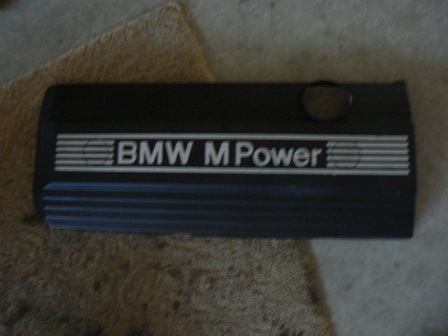 20+15 Sold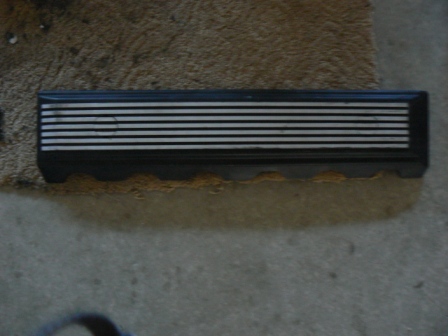 Metal Foot Pedals 20+10 Sold and Shipped
This is a good heel toe set. I cut the upper part of the gas pedal because I was
catching it with the edge of my shoe when hard on the brake. Makes heel toe much easier.
A little dirty from some hard track use, but will clean up nice.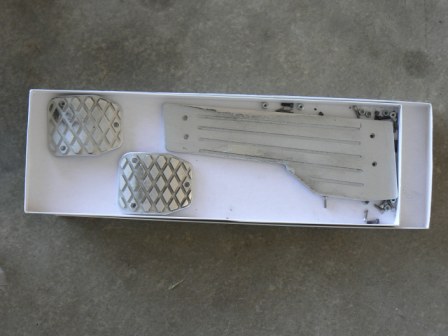 Set of Early Style Door Sills $100 + $20 shipping Sold
Used on the MCoupe up until 4-99 these are really nice. Should fit all years. Realoem.com says about 140 each. Condition is 90 out of 100.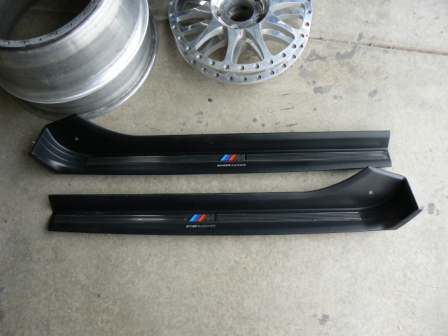 Rear Hump 30 + 15 Sold
Note: little tab broke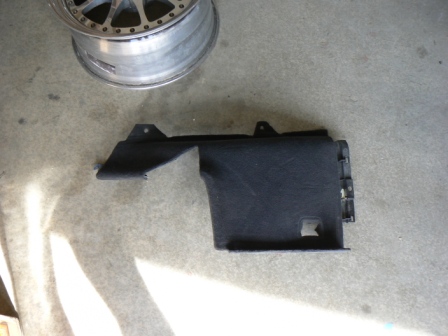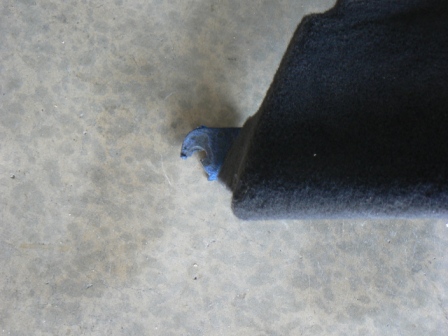 Left Hump 30 + 15 Sold
Note Little tab broke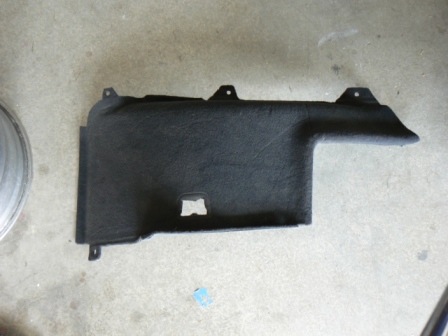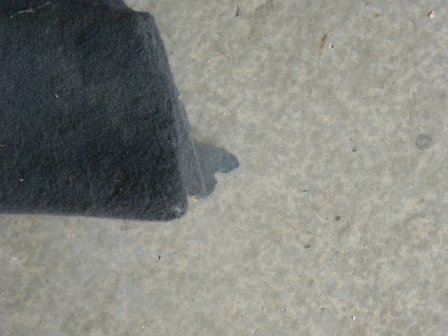 Misc Weather Stripping $30 shipped. Sold
What you see is what you get. Don't ask what parts they are. I don't know for sure. Mostly door stuff. Some very good others not so good shape. Listed more as a help to the community for someone needing to get by.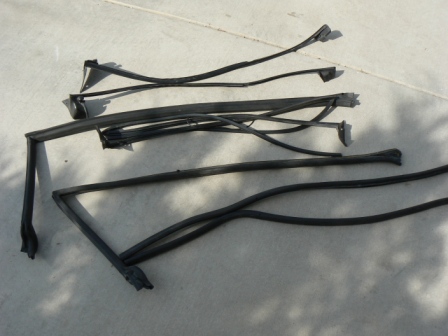 Front Brakes SOLD
New EBC Red Stuff front pads. Good for novas track driver/street 40+10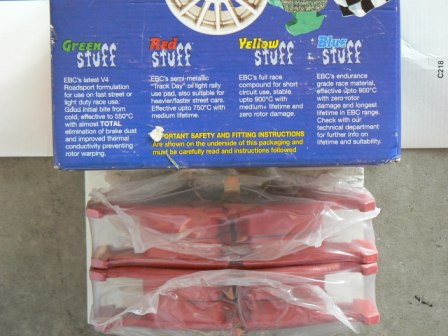 Rear Brakes SOLD
Used Porterfield rear brakes about 80% remaining
R4 good Novice Intermediate track pad 30+10 or
The above set with this would be a great aggressive street package. 60+15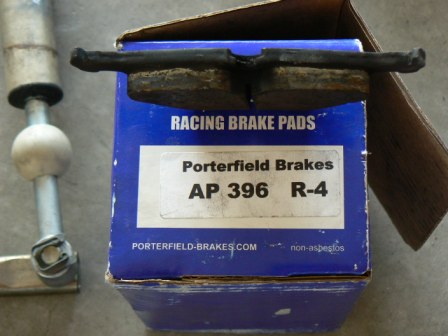 Inner Side Door Sill
$10 + 10 SOLD
$10 + 10 SOLD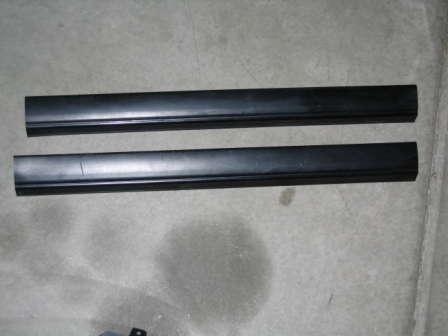 Spacers
(H&R) Hubcentric18mm New 65 +10 SOLD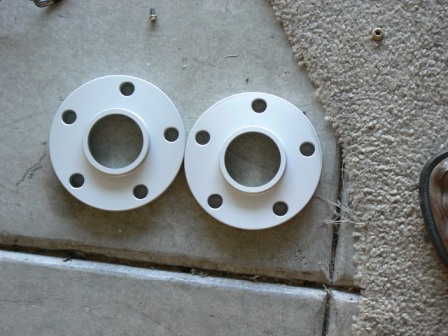 SSR Hub Rings (2) 20+10 SOLD
Used on the SSR Comp wheels. SSR wheels are not milled to fit the hub of a BMW. You must run these rings. Smart to have a spare set in case the kid running the balancing machine looses yours or you loose one at the track. Not running these rings will create bad vibration or worse, bust your studs.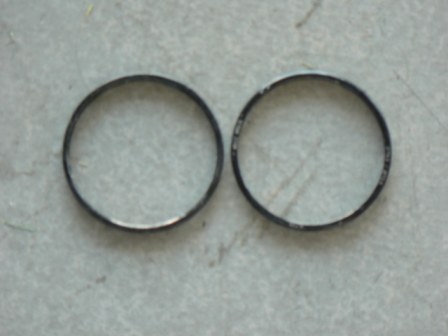 Driver Knee Protector
$30+ 20 SOLD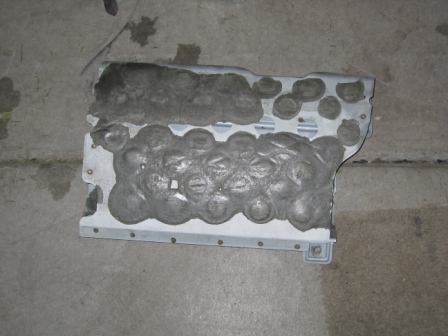 Privacy Cover Ends
$10+ 7 SOLD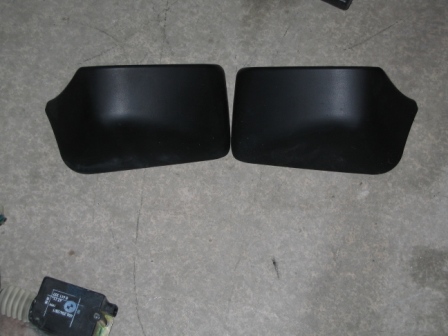 B Pillar Covers
Left 20 + 10 SOLD
Right 20 + 10 SOLD
Lower Left $20 + 10 SOLD
Lower Right $20 + 10 SOLD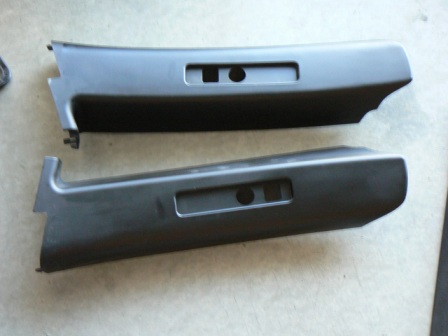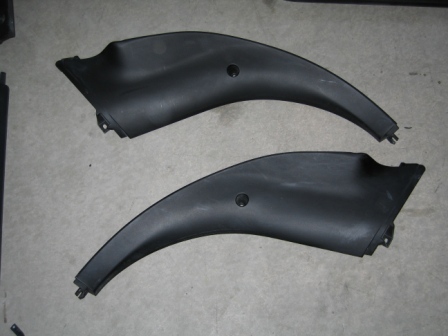 Privacy Cover Hooks
10+10 SOLD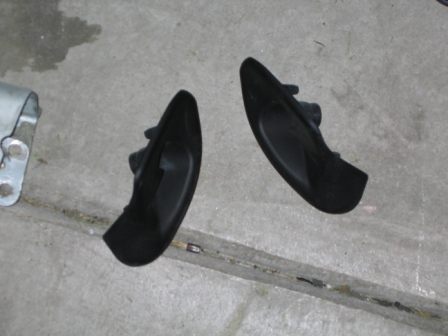 Rear Sills
$50 + 25 SOLD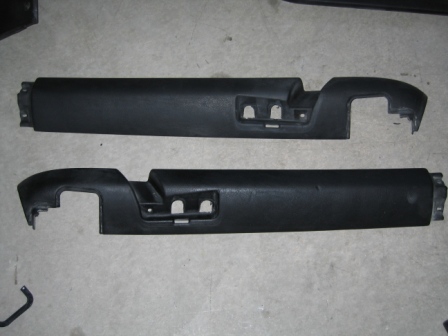 Windshield Washer Bottle and Pump 10+10 (pump incl) Sold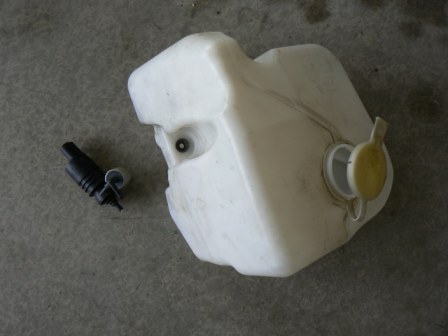 Rear Shock Mount reinforcement plates SOLD
So you ripped out the rubber OEM Shock mount and replaced with firm aftermarket design. What do you think it is doing to the sheet metal?
15+10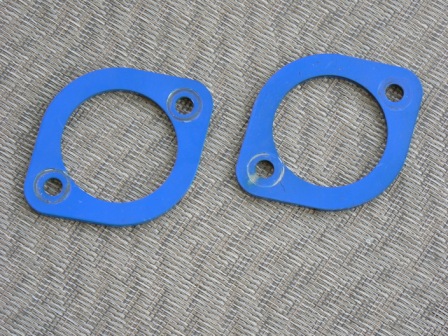 Front AC Condenser 100+25 SOLD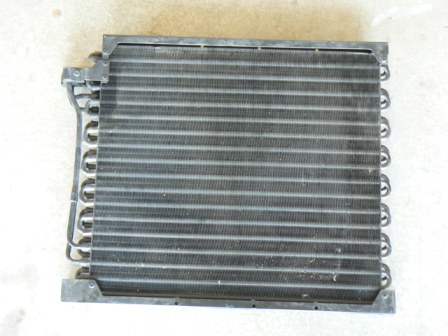 Subwoofer Cover
$50+25 SOLD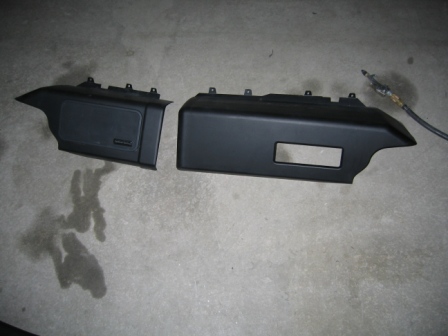 AC Schnitzer Suspension Sold
400+50
Or I help put on your car at my place 500 total.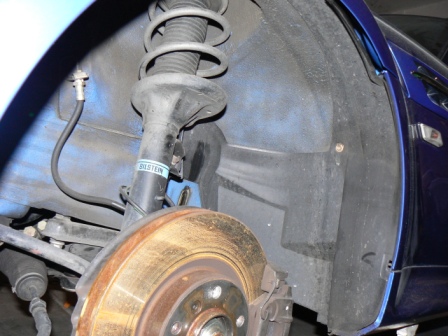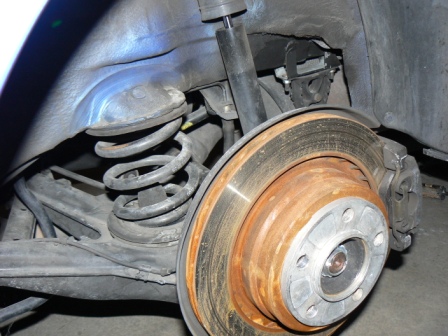 OEM
Motor Mounts 15+15 Sold

Amplifier and CD
Amp $50+ 25 SOLD
CD $75 + 25 SOLD
If you need the mount, just ask.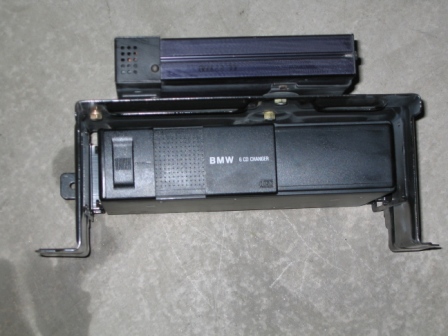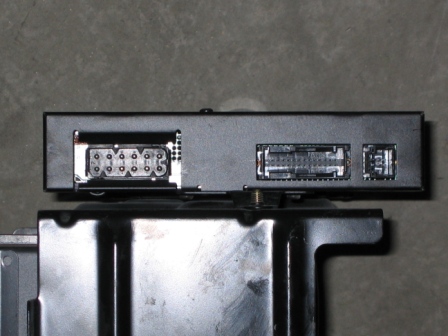 Hood and lights Sold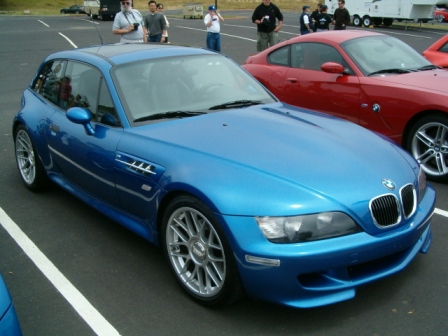 Foot Rest Panel. 25+15 SOLD
Has 4 holes from previous owners metal pedals.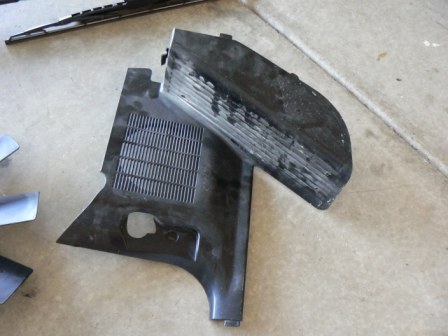 Rear Floor Cover SOLD
50 + 35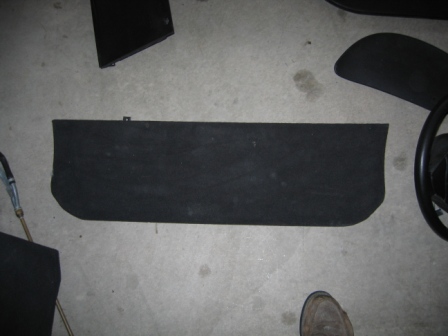 Rear Floor Lid SOLD
50 + 35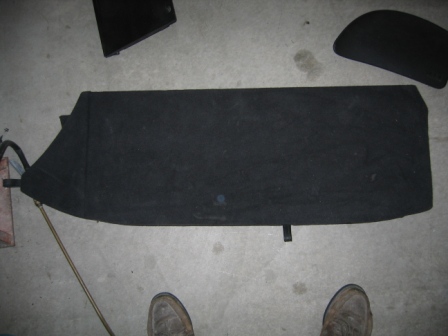 Aftermarket shift Knob 35+15 Sold
Best knob I have used. It also shortens the throw some. Very nice feel. Not lighted. Not sure of make, but someone told me it was a BMW catalog part.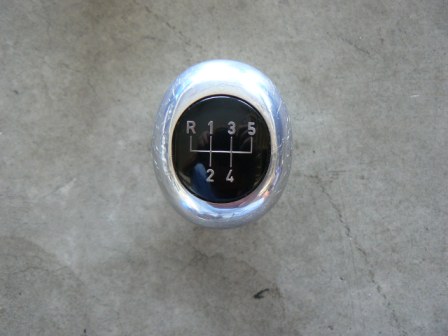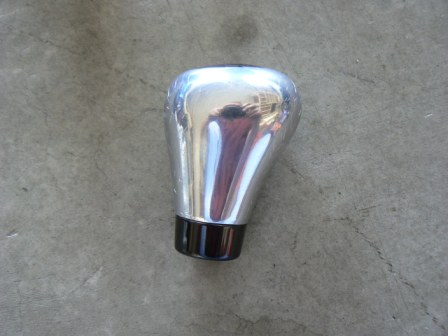 Shifter Boot
$15 + 10 SOLD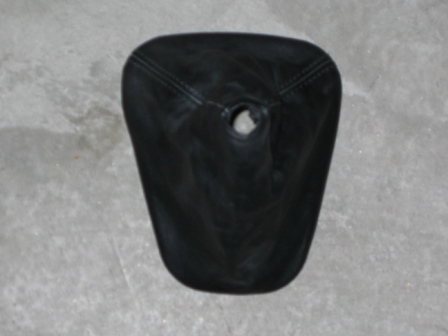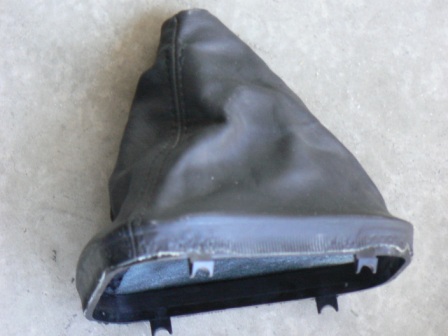 Seat Belt
Left $25 + 25 SOLD
Right $25 + 25 SOLD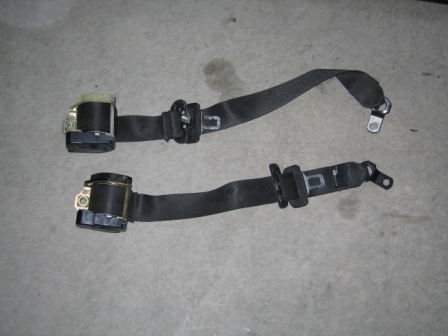 Seats Passenger seat is near perfect! SOLD
Driver Free (you pickup) Please get it out of my garage. 4-14. Its going in the trash soon. Come get it!
Passenger $300, pickup or may be able to work out shipping. (Heavy)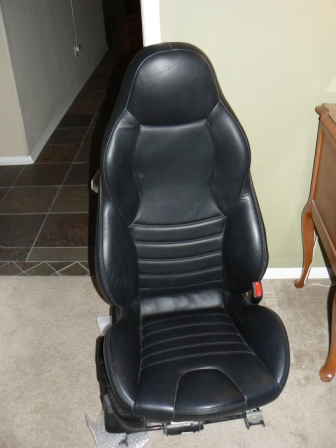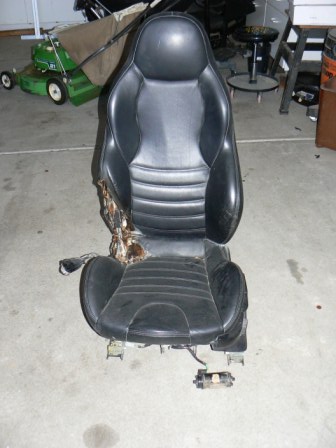 HMS Harness Bar SOLD
No longer in production that I know of. I used this bar 3 years and has a few scratches. Hey its a track tool. This is a great tool for the track. Bolt-in, no cutting and coupe can be return to 100% OEM after use.
175+30 Old camlock harness may also find it's way in the box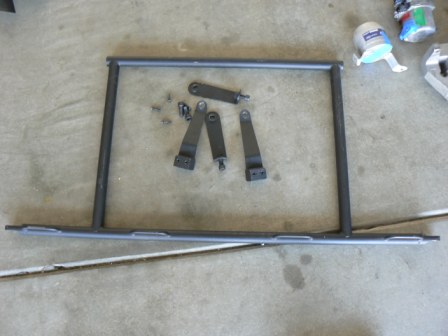 Shift Knob
Lighted 50 +15 SOLD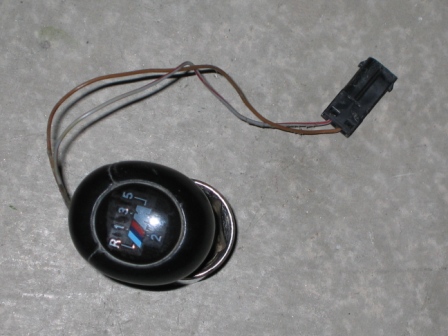 Steering Wheel ,
Steering Wheel 210 + 40 Air bag not incl.SOLD
Steering Wheel Air Bag $300SOLD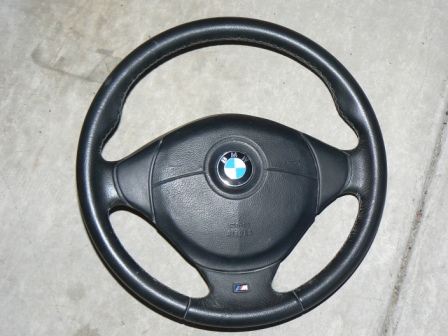 Tire Kit Sold
$50 + 20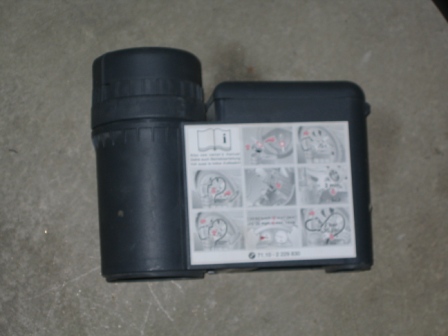 Tool Kit Sold
Missing the hook (shown) sorry need for project 99
$35+15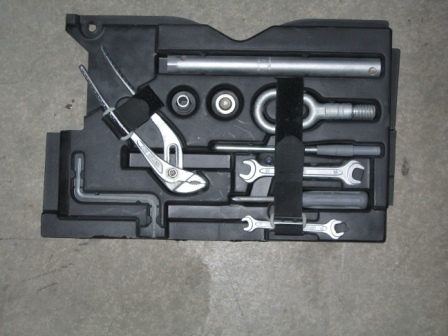 Jack Sold
Yes! this M had a jack in it!! My 02 does not.
$50 + 10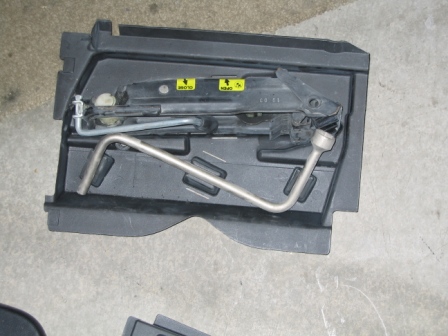 Radio
Cassette type, will control changer
$150+25 SOLD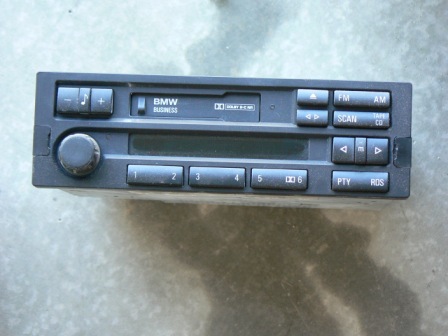 Corner Sold
Left 25 + 10
Right $25 + 10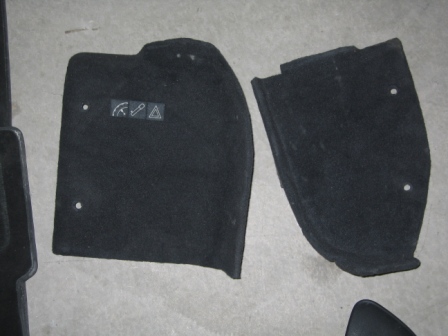 Antenna SOLD
Includes the electronics in the base. 30 + 10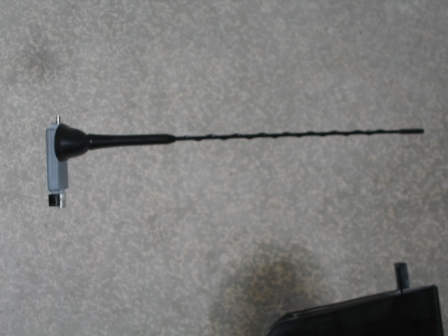 A Pillar covers SOLD
Left and right. Left has some extinguisher dust stuck to it. $30 + 10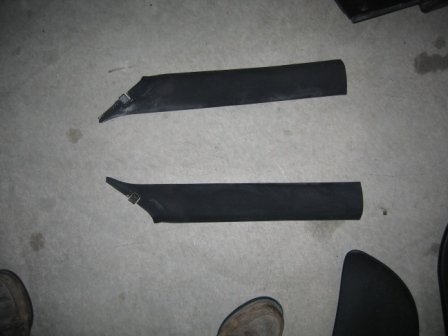 This is the back section of the console and plastic covers behind the seats. Picture looks like parts are marked up, but they are in good shape.
Center $150 + 50 Sold
Left $40 + 10 Sold
Right $40 + 10 Sold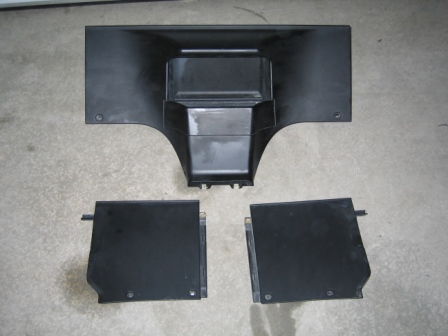 Glove box
$150 + 50 SOLD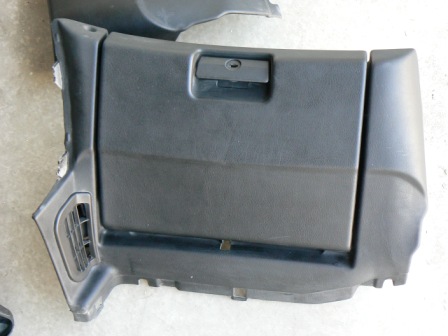 HVAC Controls Incl. electric switches, fan and micro switch
75 + 25 Sold

Hatch Actuator SOLD
$25 + 10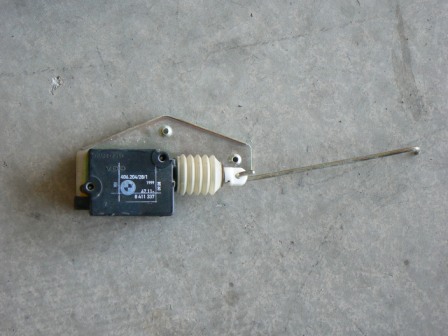 Jack Pads SOLD
3 of 4 one missing $15.00 +5 to ship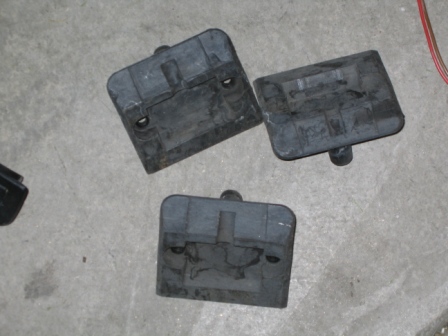 License Plate Holder
$75 + 25SOLD

Floor Mats SOLD
A little edgy. Good for spare foul weather.
$25 + 15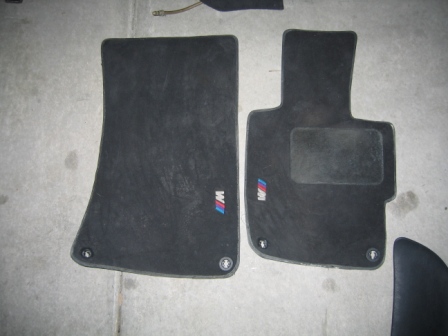 Gary's Mirror adaptor and mirror 50+25 SOLD
Another great Z3 owner created improvement. After nearly running into a car at a 4 way stop I bought this mirror. If you are a taller driver, you know how the OEM mirror can obstruct your view to the right at a 4 way stop. The OEM mirror is also in the way at the track when trying to look ahead on a sweeping right turn. This mirror and adaptor arm place the mirror tight to the roof allowing better view out the front window. Unless you are set on the look of the OEM mirror this is a must upgrade. Mirror does not self dim but does have the manual lever. Simple install. Twist old off it's mount and twist this one on.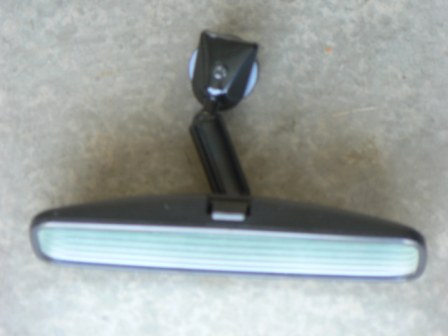 Glass Roof Top SOLD
Good Shape 150+60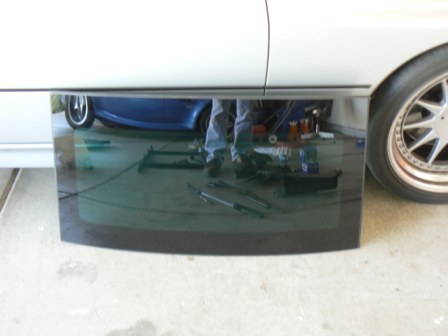 TCKline SSR Spacers SOLD
10mm Spacer for SSR Comp wheels. (No longer available) This spacer is hubcentric and also eliminates the hub ring in the SSR wheel. No more worry of loosing the rings at the track. This spacer allows the 9" Comp SSR to be mounted in the front of a Z3 providing perfect 255/40/17 tire fitment with a 3.5 neg camber. 75+10 Best track setup I've run with SSRs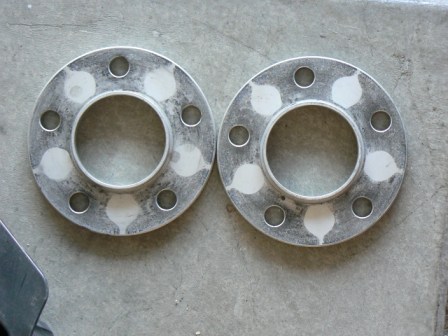 Coil Over Spring
TCKline Front Spring made by VVW 700.60.550
I know for sure it's a 550# spring. I think the 700 is 7 inch long and 60 is 60mm center. Used on TCKline DA and SA suspension kit. Used 1 year. They are good as new. original cost 97.50 each new. $90+10set SOLD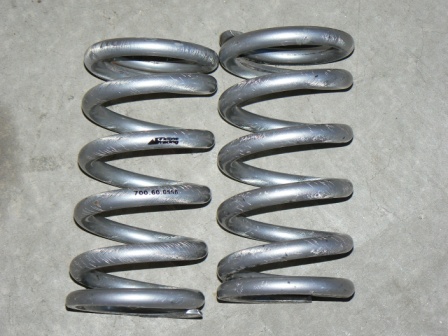 TCK 600# Rear spring 90+10 SOLD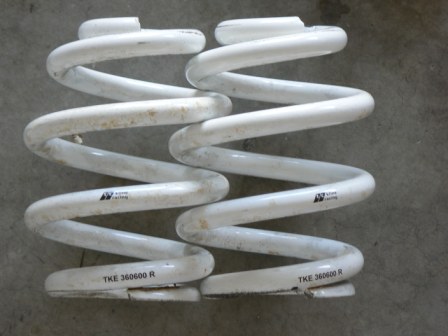 TCK Rear Spring adjusters SOLD
New in box 40+25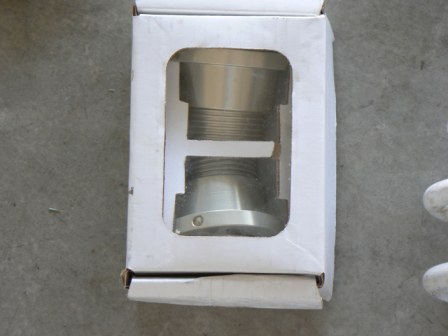 Door Panels SOLD
Left $100 + 50
Right $100 + 50
Both for 225 shipped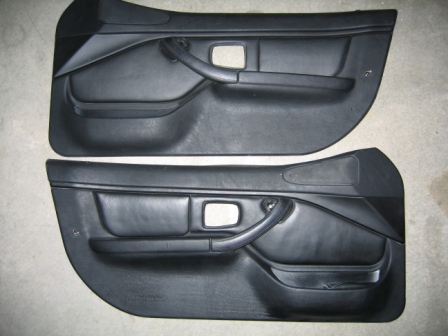 Front Wiper Arms 30+20 SOLD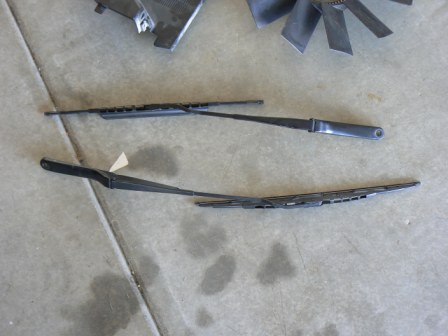 OEM M-Coupe Shifter and Selector rod 50+25 (knob not incl.) SOLD
Resent post on the forums suggest that this shifter provides a shorter throw than a non M version z3.
Another interesting note. The selector rod on the M is slightly bent to accommodate the longer lower section of the M shifter. I have not confirmed, but from what I've read, this bar is needed if you use this or aftermarket M short shifter designed for M's on a non M car. Note, the shifter is a lever, so the shorter you make it, the more effort is needed to engage the gears.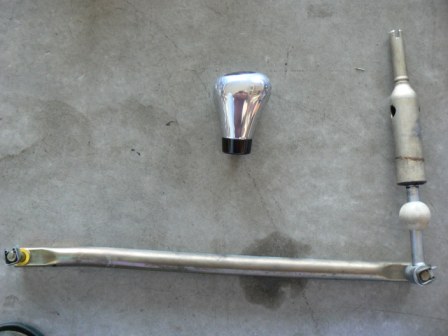 Rear Hatch Wire Cover SOLD
10 + 10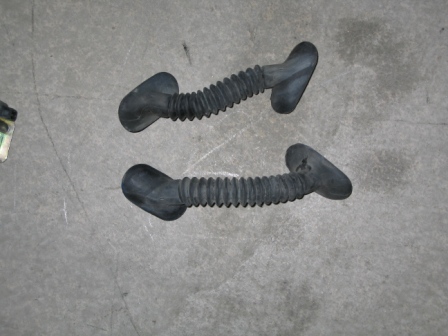 3-2 Valve, Fuel Pressure Regulator SOLD
35+15

Fuel Pump I replaced in error chasing a bad ground. Is in good working order.
Would make good back up. 40 + 15 SOLD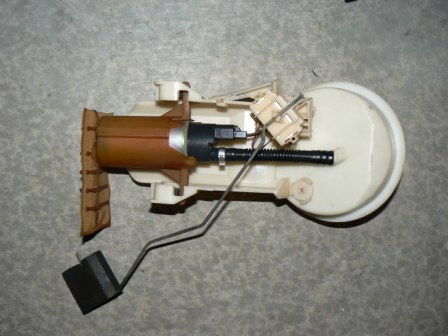 Emergency Brake Shoes and Hardware 15+10 SOLD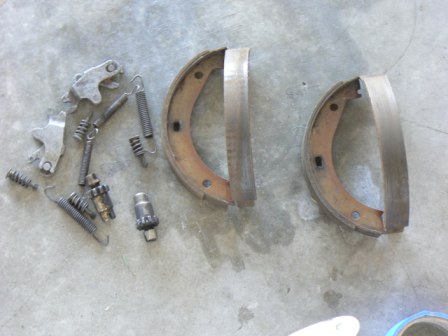 SubWoofer SOLD
$35 + 20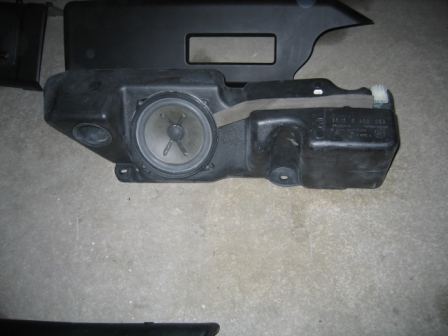 Right Wind Wing $50 + 30 SOLD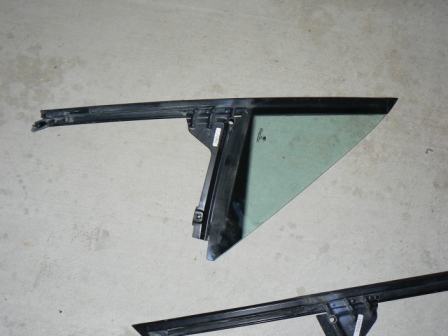 If you don't see something, Email me. If I don't need it on track it out of the car.